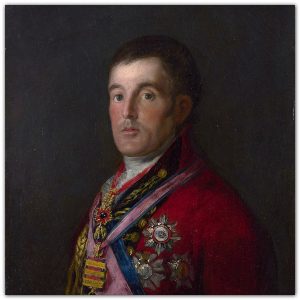 The Duke of Wellington: A life of service
Stratfield Saye House may sit just over the border in Hampshire, but its importance is felt across Berkshire.
We are delighted to welcome two of Berkshire's Deputy Lieutenants as our speakers for this talk, both are volunteer guides at Stratfield Saye House. Their talk captures the life of Stratfield Saye's most famous resident, the Duke of Wellington, from his birth in 1769 to his state funeral in 1852. Inevitably, the story includes conflict in India, the Peninsula War and of course Waterloo. We will follow his political life, his varied appointments and his fondness for women. Finally, we will hear Queen Victoria's reflections on the Great Duke in her diary. 
Pre-booking is required because places are limited. Full joining instructions will be emailed to attendees in advance. Bookings close one day before the event.
This is the fourth talk of five in the Autumn Potpourri of Social History Talks Series. Book all five talks in one multi-ticket for the discounted price of four.
To join this talk, you will need a computer device with speakers. Ideally, also a webcam and microphone. You also need to be able to access the internet from it. First-time users of Zoom, will be asked to download a small piece of software, which will be sent in advance. Technical help is available, please contact
To book – scroll down.
Speakers
Brigadier Michael Aris CBE DL

Deputy Lieutenant for the Royal County of Berkshire

Michael was commissioned from The Royal Military Academy Sandhurst into The Royal Lincolnshire Regiment in 1955 and joined his Regiment on active service in Malaya. During his subsequent career, spanning 35 years, he returned to Sandhurst as a senior instructor and then commanded a Battalion in Germany, Northern Ireland and Cyprus. He then returned to teach at the Staff College in Camberley.

Michael was then tasked to establish a new operational Brigade in North Yorkshire for which he was awarded the CBE. His final appointment was as Director of all Reserve Forces in the UK.

After retirement he worked for Waitrose and the Princes Trust. He established the Berkshire branch of the ABF (now the Soldiers Charity) in 1994 and was appointed a Deputy Lieutenant for Berkshire in 2005.

Richard Bennett DL

Deputy Lieutenant for the Royal County of Berkshire

Richard started with the idea of being a teacher but after a brief spell in the security industry became an accountant working for Whitbread Brewery. After the Monopolies Commission took its axe to the brewing industry, he worked for British Rail InterCity for 7 years. Post privatisation he joined the MOD as the Chief Accountant in a number of its organisations including; Naval Support Command, Defence Logistics and finally RAF Air Command, where his last 4 years were as the Head of Civilian Human Resources, which was great fun… apart from having to close several UK RAF Stations.

He finally got his Tri Service "badge" in 2015, when he led a team which erected a memorial to Reading's only VC winner, and the Berkshire Yeomanry. As Chair of Reading Civic Society, he engages with Reading Council, and developers, on their "mad ideas" which change the face of Reading. He was appointed a Deputy Lieutenant in 2018.