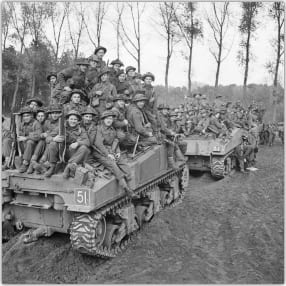 The British Army 1939-45 – online talk
Enjoy this talk from the comfort and safety of your own home, whilst still being able to contribute fully to the discussion afterwards. 
The Second World War mobilised British society in a way no other had and this was reflected in the changing composition of the Army. The Army also adapted to different conditions, environments and technology.  Discover how the Army was structured, recruited and supported and how this changed during the War. What "being in the Army" meant could vary enormously from being a pay clerk in Manchester, to a tank crewman in Rangoon. A must for anyone with ancestors who fought in the war.
Pre-booking is required, because full joining instructions will be emailed in advance. Bookings close one day before the event.
This talk is the fifth and final talk in the series "The Second World War". Buy all five talks in the series for the reduced price of four.
To join this talk, you will need a computer (or laptop/tablet) which has speakers and a microphone. Ideally, also a webcam. You need to be able to access emails from this device. First-time users will be asked to download a small piece of software. This will be sent to you in advance. 
Image: Wikimedia.
Sold out!
Speaker
Mike Cooper

Mike Cooper

Mike has had a lifelong interest in history, especially military and local history. Following a history degree at the University of Reading he worked as a librarian, with both the University and Reading Library. In addition to work on librarianship, he has had three books on the history of Reading published. Mike works for Reading Borough Council, and lives in Tilehurst with his wife and Moggy the Cat.