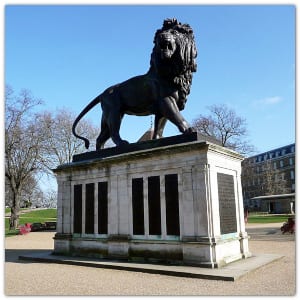 The Battle of Maiwand
The impressive cast iron statue of a lion in Forbury Gardens, Reading has become one of the most iconic images of Reading. Built by George Blackall Simonds and unveiled in 1886, it commemorates those who died in the Battle of Maiwand. Yet few of us probably know much about the Battle and its tragic association with Berkshire.
In this talk, Dan Allen, of the Victorian Military Society, tells us about the events which led to the conflict, the battle itself and its local connections.
Pre-booking is required because places are limited. Full joining instructions will be emailed to attendees in advance. Bookings close, therefore, one day before the event.
This is the third talk of five in the Summer Potpourri of Social History Talks Series. Book all five talks in one multi-ticket for the discounted price of four.
To join this talk, you will need a computer device with speakers. Ideally, also a webcam and microphone. You also need to be able to access the internet from it. First-time users of Zoom, will be asked to download a small piece of software, which will be sent in advance. Technical help is available, please contact
Image: The Maiwand Lion in Forbury Gardens, Reading, by Tom Bastin (cropped) Creative Commons CC-BY-2.0 
To book – scroll down.
Speaker
Dan Allen

Dan Allen is a retired pensions consultant who has been interested in Victorian military history since he was a teenager.
His first piece of military research came about when he wondered who was the "Lord Napier" after whom his local pub was named? Clearly, he was a soldier since his picture on the sign showed him in a red coat. Some weeks later he had a working knowledge of the life of Field Marshal Lord Napier, the Abyssinian War of 1868 and a fascination for Victorian military history that has never left him.

He is Treasurer of the Victorian Military Society, has contributed a number of articles to the Society's journal on various military and naval topics and also gives talks on behalf of the Society. He recently edited the Boer War diary of a private in the Northamptonshire Regiment for publication.