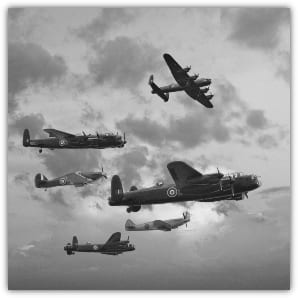 The Battle of Britain – online talk
Enjoy this talk from the comfort and safety of your own home, whilst still being able to contribute fully to the discussion afterwards. 
In 1940, Britain stood alone following the fall of France. With the German army poised across the channel, only the RAF could prevent the Luftwaffe from gaining the air supremacy needed to successfully mount the expected invasion. Historian Richard Marks, will look at how the Royal Air Force's systems and equipment allowed them to retain supremacy in the air over southern England, in 1940, and prevent the invasion.
Pre-booking is required, because full joining instructions will be emailed in advance. Bookings close one day before the event.
This talk is the third in the series "The Second World War". Buy all five talks in the series for the reduced price of four.
To join this talk, you will need a computer (or laptop/tablet) which has speakers and a microphone. Ideally, also a webcam. You need to be able to access emails from this device. First-time users will be asked to download a small piece of software. This will be sent to you in advance. 
Image: copyright Deposit Photos.
Sold out!
Speaker
Richard Marks

Richard Marks

Richard Marks is a published historian based in Berkshire who specialises in military, industrial and railway history. His current areas of research are the aircraft and systems of the RAF, industrial development in the Victorian period, and the development of the railway and canal systems in Britain in the mid to late 19th Century. Richard is also currently researching a PhD in industrial history.