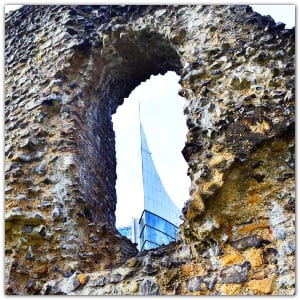 The Abbey & the Castle – Reading in the Middle Ages
A lot has been said and written about Reading Abbey, but what can looking at the Abbey tell us about Reading during the 400 years it was active?  In the second of our 900th anniversary talks, Mike Cooper will look at the relationship between the Abbey and the town, and will also explore the evidence for a castle at Reading.
Pre-booking for this online talk is required because places are limited. Full joining instructions will be emailed to attendees in advance. Bookings close one day before the event.
This is the fourth talk of five in the Spring Potpourri of Social History Talks Series. Book all five talks in one multi-ticket for the discounted price of four.
To join this talk, you will need a computer device with speakers. Ideally, also a webcam and microphone. You also need to be able to access the internet from it. First-time users of Zoom, will be asked to download a small piece of software, which will be sent in advance. Technical help is available, please contact
To book – scroll down.
Speaker
Mike Cooper

Mike Cooper

Mike has had a lifelong interest in history, especially military and local history. Following a history degree at the University of Reading he worked as a librarian, with both the University and Reading Library. In addition to work on librarianship, he has had three books on the history of Reading published. Mike works for Reading Borough Council, and lives in Tilehurst with his wife and Moggy the Cat.