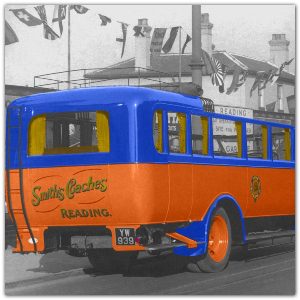 Smith's Coaches of Reading
Smith's Coaches of Reading, with their distinctively coloured blue and orange vehicles, were an integral part of the local scene for six decades, as well as being seen all over the county on excursions, tours and seasonal coastal expresses. This is the story of how the enterprise developed from a single charabanc to become the largest privately-owned coaching firm in Southern England.
Our speaker, Paul Lacey, is the author of the comprehensively researched "Smith's Coaches of Reading 1922-1979". We are in safe hands.  
This is the second of three talks in the Transport Social History Talks series. The other talks take place on 13th January and 10th March. You may book tickets for individual events or for all three talks in the series for a reduced price.  
After the talk, tea/coffee and either biscuits or cake will be available (included in the price). Advance booking is preferred, but you can pay on the door, if there are spaces available.  
Please note that as this is a face to face talk, prevailing Coronavirus precautions will be in place. Please see: https://berksfhs.org/face-to-face-events-covid-security/
Speaker
Paul Lacey

Paul is a local historian, primarily concentrating on road passenger transport, with 16 books so far published, also interested in various other topics.
Now retired, he was latterly a Local Authority Transport Co-ordinator, and for the past 10 years Chairman of the Provincial Historical Research Group of the Omnibus Society, as well as an archivist for a local transport trust. He lives in Wokingham, previously in Bracknell, being a New Towner arriving from London as a boy in 1957.