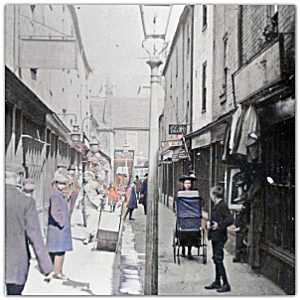 Smelly Alley, Reading
Fish mongering & other stories
This talk was originally planned for 7th October, but technology issues prevented the speaker from being able to give the talk. It has been rescheduled for Thursday 14th October and we have re-opened bookings to allow anyone who would like to attend this new date, not previously booked, to now do so. 
"Smelly Alley", more properly Union Street, is a narrow pedestrian street linking Friar Street and Broad Street. It's famous in Reading as one the few locations where you could until recently experience a more 'characterful' shopping experience. From the 1930s until relatively recently, Kevin and his father before him, ran Frosts the fishmongers there. This talk is packed with anecdotes about life in the Alley, including how it got its name, and the story of the oldest shop in Reading.
Pre-booking is required because places are limited. Full joining instructions will be emailed to attendees in advance. Bookings close one day before the event.
This is the first talk of five in the Autumn Potpourri of Social History Talks Series. Book all five talks in one multi-ticket for the discounted price of four.
To join this talk, you will need a computer device with speakers. Ideally, also a webcam and microphone. You also need to be able to access the internet from it. First-time users of Zoom, will be asked to download a small piece of software, which will be sent in advance. Technical help is available, please contact
To book – scroll down.
The Non-members ticket sales has ended!
The Members ticket sales has ended!
Speaker
Kevin Little

Kevin Little

Kevin was a fishmonger in Reading town centre for 54 years, so he knows not only about the fish trade, but running a small business as well. His business was called The Smelly Alley Fish Company. He enjoyed interaction with customers and colleagues in the surrounding small businesses, less his dealings with health inspectors and the like. His long period in Reading – he was born in Reading during the great freeze of 1947 – has given him many years of insight into Reading's recent history.