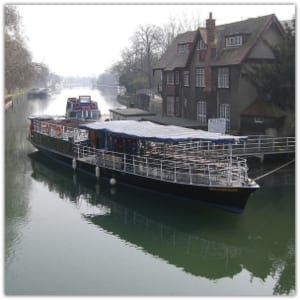 Sculls, skiffs and steamers: the history of Salter's Steamers
Pleasure boating became very popular along the river Thames during the nineteenth century. Salter's Steamers (founded in Oxford in 1858 and known for much of its existence as Salter Bros Ltd) did more to popularise it on the non-tidal river than any other Thames business.
This talk traces the development of the firm and how it grew from a leading racing-boat constructor in Wandsworth to become one of the largest inland boat-builders and passenger boat operators in the country. It also describes many of the famous names associated with the business, including Lewis Carroll, William Morris and T. E. Lawrence.
Pre-booking is required because places are limited. Full joining instructions will be emailed to attendees in advance. Bookings close one day before the event.
This is the first talk of five in the Summer Potpourri of Social History Talks Series. Book all five talks in one multi-ticket for the discounted price of four.
To join this talk, you will need a computer device with speakers. Ideally, also a webcam and microphone. You also need to be able to access the internet from it. First-time users of Zoom, will be asked to download a small piece of software, which will be sent in advance. Technical help is available, please contact
Image: A boat belonging to Salters Steamers, by Folly Bridge in Oxford (cropped from original) – Andrew Gray
To book – scroll down.
The Non-members ticket sales has ended!
The Members ticket sales has ended!
Speaker
Dr Simon Wenham

Dr Simon Wenham

Dr Simon Wenham is a member of the part-time tutor panel of Oxford University's Continuing Education Department where he teaches courses on the Victorian period. His doctoral research at the University of Oxford was on the history of Salter Bros Ltd, which led to his book Pleasure Boating on the Thames: a History of Salter Bros 1858 – Present Day (published in 2014 and updated in 2017). He is also the author of Hobbs of Henley: a History (published in 2020).

Simon is a regular speaker on historical topics and has also written a range of academic and popular-level articles. He is a regular contributor to Radio Oxford and has done interviews for a number of television documentaries (shown on Channel 4, Channel 5 and TBN), as well as providing advice for books and programmes on a variety of subjects.

His current research interests include the social history of Victorian Britain, the river Thames, the city of Oxford and the development of leisure.