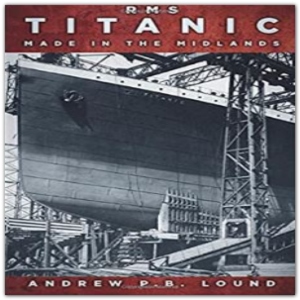 RMS Titanic Made In the Midlands
The story of the ill-fated liner Titanic is one that has been told and retold countless times it is hard to imagine that there could be any new stories or twists to the tale. Yet Titanic's strong connection with the Midlands is one such story that is not so well known. The ship may have been built in Belfast, registered in Liverpool and sailed from Southampton, but over 70 per cent of her interiors came from the Midlands. This pivotal piece of research from Titanic expert Andrew P.B. Lound explores the role played by the people and the varied industries of the Black Country in the life of the most famous ship in the world.
This talk is free to members of Berkshire Family History Society and we request a donation of £5 from non-members. Pre-booking is required, because the meeting link will emailed in advance. Booking ends one day before event. 
To join in this branch meeting, you will need a computer device which has a microphone and speakers. Ideally, also a webcam. You also need to be able to access emails from this device. First time users will be asked to download a small piece of software to join the meeting.  The meeting link will be emailed to you in advance. Technical help is available for those who need further assistance, please contact bo*****@be******.uk .
Speaker
Andrew Lound

Presenter, writer, lecturer and broadcaster.

Former curator of the Avery Historical Museum. Regular commentator on science and history matters on BBC Radio and Talk Radio. Writer and presenter of TV series 'Streets of Birmingham'. Published 4 books (3 history and one biography). Tours the country with his trademark Odyssey Dramatic Presentations® in history and science subjects, having been involved in over 5000 events. Has toured in USA, Europe and North Africa.