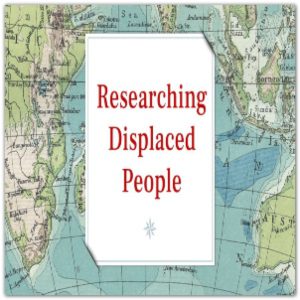 Researching Displaced People
A broad overview, beginning with the definition of displacement and other similar terminology. We then look at some key examples, using four case studies which provide examples of the breadth and depth of the topic and cover the 19th Century and right up to the modern age. The session is accompanied by a handout which provides some guidance on how to research further.
This talk is free to members of Berkshire Family History Society and we request a donation of £3 from non-members. Pre-booking is required, because the meeting link will emailed in advance. Booking ends one day before event. 
To join in this branch meeting, you will need a computer device which has a microphone and speakers. Ideally, also a webcam. You also need to be able to access emails from this device. First time users will be asked to download a small piece of software to join the meeting.  The meeting link will be emailed to you in advance. Technical help is available for those who need further assistance, please contact  .
Booking closed for Non-members ticket
Booking closed for Members ticket
Speaker
Julie Goucher

Julie Goucher

Julie is a very experienced and qualified genealogist and historian who lectures regularly on a variety of genealogical subjects, both to UK and International audiences. Julie has particular interest in researching surnames & European ancestors both of which she teaches as a Pharos Tutor. Julie is an author and a frequent writer in a variety of genealogical magazines.