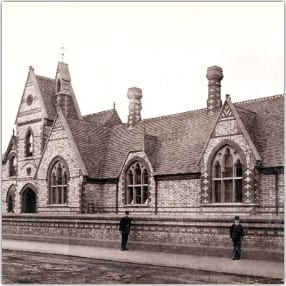 Reading's Nineteenth Century Schools
In the 19th century, churches and individuals were the main benefactors setting up local schools, until in 1871, when the local authority in Reading also became involved in the provision of education through Reading School Board.
This is when schools such as Kendrick Girls and Boys Schools were established, the latter shown in this image, reproduced with kind permission of Reading Central Library.
Joan will tell us about the development of education in Reading through this period of time.
This is the last in a series of five talks on the theme of "Institutions". The other talks take place on: 10th October, 24th October, 9th November and 21st November. You may purchase tickets for individual events or for all five talks in the series for the reduced price of four.
The ticket price includes tea/coffee and cake after the talk. Advance booking is recommended but you can pay on the door (subject to availability). 
Speaker
Joan Dils

Joan Dils

Joan Dils is an experienced local historian and writer specialising in 16th and 17th century Berkshire. Her books include: the first and second editions of "An Historical Atlas of Berkshire", the latter edited in conjunction with Margaret Yates, and Reading St Laurence Churchwardens' Accounts, 1498-1570: Parts I and II, (Berkshire Record Series). Her latest, "History of Reading", was published in October 2019.

Joan is president of the Berkshire Local History Association and also the History of Reading Society, and an Honorary Visiting Fellow in History at the University of Reading. She taught history and local history for the former School of Continuing Education at Reading and Oxford Universities where she was a part-time lecturer.