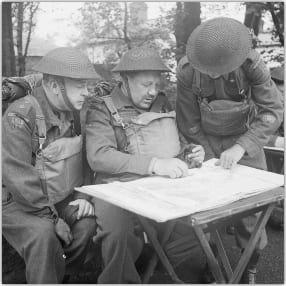 Reading's Home Guard – online talk
Enjoy this talk from the comfort and safety of your own home, whilst still being able to contribute fully to the discussion afterwards. 
Formed in 1940, the Home Guard was part of a long list of voluntary and part-time formations raised for local defence. Despite the bumbling image created by the BBC classic "Dad's Army", the force emerged as a well-trained, well equipped and highly motivated part of Britain's defences. Find out about Reading's Home Guard in this fascinating talk.
Pre-booking is required, because full joining instructions will be emailed in advance. Bookings close one day before the event.
This talk is the second in the series "The Second World War". Buy all five talks in the series for the reduced price of four.
To join this talk, you will need a computer (or laptop/tablet) which has speakers and a microphone. Ideally, also a webcam. You need to be able to access emails from this device. First-time users will be asked to download a small piece of software. This will be sent to you in advance. 
Image: copyright Creative Commons
Sold out!
Speaker
Mike Cooper

Mike Cooper

Mike has had a lifelong interest in history, especially military and local history. Following a history degree at the University of Reading he worked as a librarian, with both the University and Reading Library. In addition to work on librarianship, he has had three books on the history of Reading published. Mike works for Reading Borough Council, and lives in Tilehurst with his wife and Moggy the Cat.