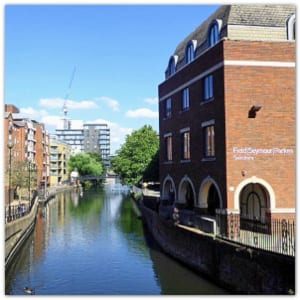 Reading's Historic Rivers Walk
Our guide is eminent local historian David Cliffe, who, before retirement, was Local Studies Manager for  Reading Libraries. David will take us through land which once belonged to Reading Abbey. During the nineteenth century it became built up and industrial. Now much of it has been redeveloped for housing. Along the way, we will hear of the history of the area, and see photographs of the different locations and what used to be there. So the pace will be leisurely.
The walk is of around 1½ miles, and should take around 1½ hours. It will be comply with prevailing Covid requirements and may, therefore, be subject to last minute changes or cancellation. If this occurs, we will attempt to provide an alternative date, and if this isn't convenient, we will offer a full refund to effected ticket holders.
Attendees will be notified of the meeting point, by email, approximately a week before the walk.
Image: River Kennet, Reading, from High Bridge – Ethan Doyle White. CC-BY-SA-4.0
Sold out!
Speaker
David Cliffe

David Cliffe

David Cliffe came to Reading in 1969, and spent his working career in public libraries in Reading, eventually becoming Local Studies Manager for Reading Borough. He has had a life-long interest in local history, and is currently Chairman of the Berkshire Local History Association, and of the History of Reading Society. Another life-long interest has resulted in him being the President of the Reading & District Natural History Society.