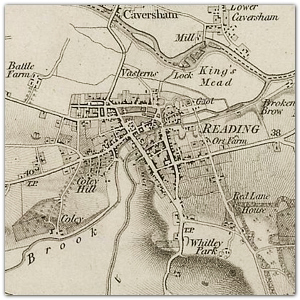 Reading's Courts and Alleys Workshop
Starling, Hawk and Sparrow: courts and alleys of mid-nineteenth century Reading Workshop
From the end of the 18th century, the labouring population migrated to the towns and cities from the countryside. They were attracted by the increasing job opportunities provided by the growth in manufacturing. Demand for housing created whole swathes of new, but basic accommodation. Much of this early housing was unlegislated, unplanned and appeared in close and oppressive courts and alleys.
This workshop will concentrate on the experience of Reading and will use a variety of sources. We will establish where these courts were and who lived in them. We will consider what life would have been like for those who lived there and also make comparisons with other urban centres.
The sources referenced during our session will enable you to apply your knowledge to other areas and explore the history of court housing elsewhere.
Pre-booking is required as places are limited. Bookings close one day before the event.
Sold out!
Speaker
Dr Margaret Simons

Dr Margaret Simons

Dr Margaret Simons is a much respected local historian whose doctoral thesis (University of Reading) examined the public health and housing of the working classes in Reading from 1837 to 1939. She is a tutor at Oxford University Department of Continuing Education, Bracknell and Wokingham College and Workers' Educational Organisation.

Margaret is also a trustee of the Mills Archive Trust, secretary of Berkshire Record Society and sits on the committee of the Berkshire Local History Association.