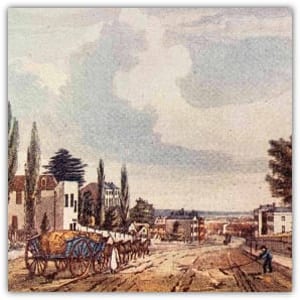 Reading in the Time of Jane Austen
Jane Austen is perhaps Reading's most famous past pupil. She spent 18 months at school at Reading Ladies Boarding School, in The Forbury, between the spring of 1785 and December 1786.  Reading, in the late eighteenth and early nineteenth century, was becoming increasingly wealthy. This wealth is increasingly reflected in more and better facilities for shopping, education, town planning, leisure and entertainment. 
Discover more in this fascinating talk.
This talk is the first of three in the Spring Potpourri online talks series. Book all three talks in the series for £12.50 (members £10).   
Pre-booking is required, because the event link will be sent in advance.                             
To join this talk, you will need a computer device with speakers. Ideally, also a webcam and microphone. You also need to be able to access the internet from it. First-time users of Zoom, will be asked to download a small piece of software, which will be sent in advance.                                                                                                                                      
To book – scroll down.
Speaker
Joy Pibworth

Joy has always been fascinated by history and is particularly interested in the history of the towns and villages of the former North Berkshire (now the Vale of the White Horse) and the history of Reading pre 1837. She is a long-standing member of several local history societies. Joy has been a Janeite (Jane Austen fan) since her school days and is particularly interested in the life and times of Jane and her immediate family.