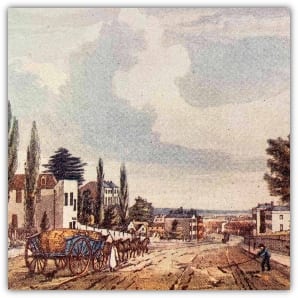 Reading c.1740 – c.1800: commerce, culture and chapel
Discover mid-Georgian Reading in this fascinating talk by eminent local historian Joan Dils.
Reading's age of cloth production was over and its reputation for flourishing industries was still to be made. In contrast, during these five decades Reading was intent on cementing its role as an inland port and distribution centre, a magnet for the aficionados of balls and race meetings and a welcome home for serious-minded Christian worshippers. Joan Dils' talks are always very popular and offer new insights into the history of Reading. One not to be missed!
This is the fourth talk of five in the Winter Potpourri of Social History Talks Series. Book all five talks in one multi-ticket for the discounted price of four.
To join this talk, you will need a computer device with speakers. Ideally, also a webcam and microphone. You also need to be able to access the internet from it. First-time users of Zoom, will be asked to download a small piece of software, which will be sent in advance. Technical help is available, please contact  
To book – scroll down.
Speaker
Joan Dils

Joan Dils

Joan Dils is an experienced local historian and writer specialising in 16th and 17th century Berkshire. Her books include: the first and second editions of "An Historical Atlas of Berkshire", the latter edited in conjunction with Margaret Yates, and Reading St Laurence Churchwardens' Accounts, 1498-1570: Parts I and II, (Berkshire Record Series). Her latest, "History of Reading", was published in October 2019.

Joan is president of the Berkshire Local History Association and also the History of Reading Society, and an Honorary Visiting Fellow in History at the University of Reading. She taught history and local history for the former School of Continuing Education at Reading and Oxford Universities where she was a part-time lecturer.