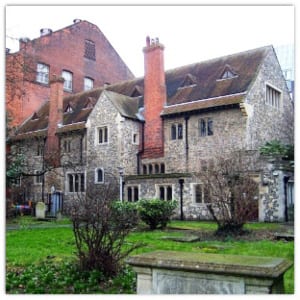 Reading Abbey Tour and cream tea
In mediaeval times, Reading was the site of a great royal abbey. This was a religious community centred around a magnificent church – one of the largest monasteries in Europe. It was formed in 1121 by Henry I, and closed in 1539 on the orders of Henry VIII.
Our walk will explore the rich history of the Abbey Quarter with abbey guide and expert John Painter. It will be around 90 minutes in length, and is generally on flat ground.
We will finish at The Centre for Heritage and Family History, built on the site of the abbey's former stables, with a cream tea (included within the price).
The meeting place will be notified in the week running up to the tour. 
Numbers are limited, so pre-booking is required.
Image: Reading Abbey's former hospitium – Rose-and-Trev-Clough-The-Hospitium-of-St.-John-south-face-CC-BY-SA-2.0
To book, scroll down. 
Booking closed for Member ticket
Booking closed for Non-Member ticket
Speaker
John Painter

John Painter has been actively involved with the Friends of Reading Abbey from 2011, and secretary since 2013. Throughout, he has been an active supporter of the efforts to consolidate the Abbey Ruins and get them re-opened to the public in plenty of time for 2021, the 900th anniversary of the Abbey's foundation. He is the joint editor, with Dr Peter Durrant, of "Reading Abbey and the Abbey Quarter" (Two Rivers Press, 2018).