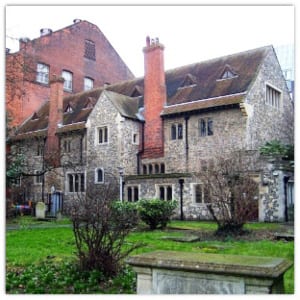 Reading Abbey Quarter Walk
In medieval times, Reading was the site of a great royal abbey. The religious community was centred round a magnificent church and one of the largest monasteries in Europe. It was formed in 1121 by Henry I, who was later buried near the High Altar. Because of its royal patronage, the abbey soon became one of the important pilgrimage centres of medieval England. And also, one of the richest and most important.  It contained a number of religious relics, including the reputed hand of St James. Visited by successive kings, it was the venue for several important weddings and a meeting of Parliament in 1453. The abbey was closed in 1539, as part of Henry VIII's Dissolution of the Monasteries.
In this its 900th anniversary year, our walk will explore the rich history of the Abbey Quarter with abbey guide and expert John Painter. As we stop along the way, John will talk about the  history of this site from its days as a royal abbey to the current day.
The walk will be around 90 minutes in length, and generally on flat ground. It will be comply with prevailing Covid requirements and may, therefore, be subject to last minute changes or cancellation. If this occurs, we will attempt to provide an alternative date, and if this isn't convenient, we will offer a full refund to effected ticket holders.
Attendees will be notified of the meeting point, by email, approximately a week before the walk.
Image: Rose and Trev Clough – The Hospitium of St. John, south face CC BY-SA 2.0 
Sold out!
Speaker
John Painter

John Painter

John Painter has been actively involved with the Friends of Reading Abbey from 2011, and secretary since 2013. Throughout, he has been an active supporter of the efforts to consolidate the Abbey Ruins and get them re-opened to the public in plenty of time for 2021, the 900th anniversary of the Abbey's foundation. He is the joint editor, with Dr Peter Durrant, of "Reading Abbey and the Abbey Quarter" (Two Rivers Press, 2018).