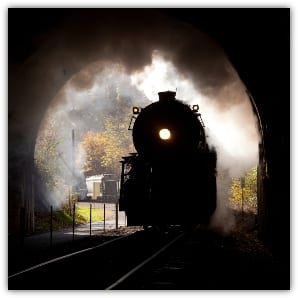 Railways Records for Family Historians Workshop
Did your Ancestors work on the railways? Britain's railway history is complex and can be difficult to decipher. In this online workshop, firstly, we will unravel the history of the railway companies, from British Railways in the 1980s back to the first railway companies in the Victorian period.
We will then work through some sample railway documents to decipher what the railway language used within them means, and how they can be used by family historians to build their family histories. The workshop will conclude by looking at where railway archives can be found and how they can be accessed.
Tickets cost £10 (members £9). Pre-booking is required because full joining instructions will be emailed in advance. Bookings close one day before the event.
To be able to join in this workshop, you will need a computer device from which you can access your emails and which has a microphone, speakers and preferably a webcam.  First-time users of Zoom, will be asked to download a small piece of software. This will be sent to you in advance. If you are unsure whether you can access Zoom, and would like technical help, please contact  
To book, scroll down.
The Non-members ticket sales has ended!
The Members ticket sales has ended!
Speaker
Richard Marks

Richard Marks

Richard Marks is a published historian based in Berkshire who specialises in military, industrial and railway history. His current areas of research are the aircraft and systems of the RAF, industrial development in the Victorian period, and the development of the railway and canal systems in Britain in the mid to late 19th Century. Richard is also currently researching a PhD in industrial history.