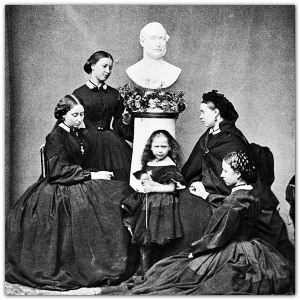 Queen Victoria's Daughters
Queen Victoria and Prince Albert were the parents of nine children – five daughters and four sons.  The collective lives of their daughters span the period from 1840 – 1944.  They include the Empress Frederick, the tragic Princess Alice, Grand Duchess of Hesse-Darmstadt and the Rhine, and the talented Princess Louise, Duchess of Argyll.  In this talk, Colin Parrish will describe the lives of the royal sisters and their descendants.   
This is the third of three talks in the Royalty Social History Talks series. The other talks take place on 14th April and 12th May. You may book tickets for individual events or for all three talks in the series for a reduced price.  
After the talk, tea/coffee and cake will be available (included in the price). Pre-booking is preferred, but you can pay on the door, if there are spaces available.  
Please note that as this is a face to face talk, prevailing Coronavirus precautions will be in place. Please see: https://berksfhs.org/face-to-face-events-covid-security/
To book, scroll down.
Image: wikimedia commons.
Speaker
Colin Parrish

Colin Parrish

Royal history is Colin Parrish's lifelong passion. He specialises in British and European royalty in the eighteenth, nineteenth and early twentieth centuries. He has taught royal history for Surrey Adult and Community Learning since 1995 and for the Workers' Educational Association (WEA) since 2013. Colin is also an accredited speaker on royal history related subjects to local Women's Institutes.