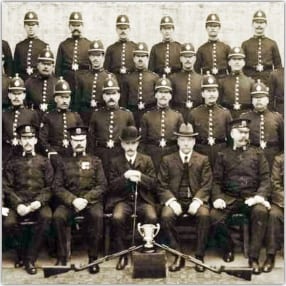 Policing Reading in WW1
This talk looks at the eight police forces that covered the Thames Valley Police area in WW1, a brief look at the working hours of a policeman at the start of WW1, and the impact of 'Recall to the Realm' on policemen who were on military reserve. For example Reading Borough (image courtesy of Reading Local Studies Collection) Police lost nearly 20% of their manpower overnight when people on reserve were recalled.  And lastly the additional duties that Defence of the Realm Act and Regulations placed on the police, using some statistics published by the Chief Constable of Reading in his annual report.
Non-members are invited to make a £3 donation towards costs
Speaker
Tony Keep

Tony Keep retired from Thames Valley Police as a Chief Inspector in 1995, after 32 years' service. He initially started as a cadet. During his service he gained experience in general uniform duties, traffic (roads policing) and training. As a Chief Inspector at Reading, he was involved in the planning and policing of Reading football matches, the Reading Festival and the Henley Royal Regatta.

Following his retirement, Tony became a volunteer in the force museum. In 2013, he researched The Great Train Robbery and in 2014 researched into 49 police officers who were killed whilst on military service in World War I.

Born and brought up just north of Reading, he classes Reading as his home town.