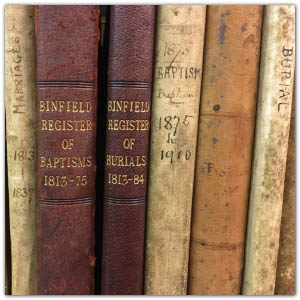 Parish Registers for Family Research
Since their introduction in 1538, parish registers have gone through a number of changes. Throughout, they bear witness to life within each parish, and record the important personal events of baptism, marriage and burial and of course, after 1753, the reading of banns. They also evidence local, national and societal changes.  
Increase your chances of success with family historians' core resource. Better understand what registers can provide for you. Including, where to find them, how Church of England and non-conformist registers differ, and how to interpret them. Discover some of the hidden codes which can appear in registers. Why a child could be apparently baptised more than once and in different locations. Also, the benefits and pitfalls of indexes and transcripts.
Pre-booking is required because full joining instructions will be emailed in advance. Bookings close one day before the event.
To be able to join in this workshop, you will need a computer device from which you can access your emails. This device also needs to have speakers and ideally a microphone and webcam.  First-time users of Zoom, will be asked to download a small piece of software. This will be sent to you in advance. If you are unsure whether you can access Zoom, and would like technical help, please contact bo*****@be******.uk 
Image: reproduced with the kind permission of Berkshire Record Office
To book scroll down.
Speaker
Catherine Sampson MSc

Catherine is a veteran family historian. Her own family history research is mainly concentrated in East Anglia and the North-East.

She loves history across all periods, both the very early (she read Prehistory and Archaeology at the University of Sheffield in the 1980s) and the more modern. To increase her knowledge of the latter, she more recently went back to University (Oxford this time round) and completed first a Diploma and then a Masters in English Local History. She is a keen social historian and regularly gives talks across Berkshire and the surrounding counties.

Catherine is Chairman and Projects Coordinator for Berkshire Family History, and also chairs Project Purley, Purley's local history society. She has published several histories of her own family and in 2010 edited "Purley in Old Images".