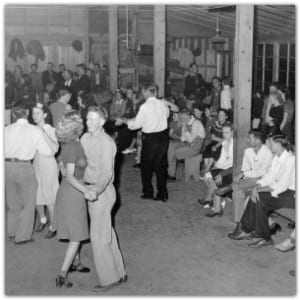 Mum and Dad's Story: 1918-1945
Mark shares the personal story of his parents lives in the first half of the 20th century.
This talk deals with their infancy and schooling, their first jobs, how and where they met, and the effects that World War 2 had on their lives. Mum and Dad were both born at the end of WW1. Fate brought them together on the dance floor soon after WW2 broke out; the war dominated their early time together and then forced them apart for nearly four years soon after their marriage. Mum worked in Central London during the Blitz, and her place of work was completely destroyed in the second Great Fire of London. Arguably a more dangerous war than Dad's.
Dad joined the RAF and went to Egypt the long way (from Liverpool round the North of Ireland to Gibraltar, and then to Cairo via Freetown, Durban and the Red Sea) zigzagging to avoid U-boats. His accounts talk mainly about playing in dance bands rather than the discomforts and dangers he faced. Luckier than many, they both survived the war and lived well into the 21st century.
This talk is free to members of Berkshire Family History Society and we request a donation of £3 from non-members. Pre-booking is required, because the meeting link will be emailed in advance. Booking ends two days before event. 
To join in this branch meeting, you will need a computer device which has a microphone and speakers. Ideally, also a webcam. You also need to be able to access emails from this device. First time users will be asked to download a small piece of software to join the meeting.  The meeting link will be emailed to you in advance. Technical help is available for those who need further assistance, please contact  .
The Members ticket sales has ended!
The Non-member ticket sales has ended!
Speaker
Mark Bowman

Mark Bowman

Mark Bowman started working on his family tree at the age of fifteen and never really stopped, despite the need to get an education and earn a living. In retirement he 'works' at the Reading Family History Centre and acts as convenor of the Reading U3A family history group, as well as giving talks and quizzes to local groups.