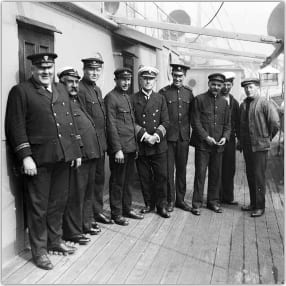 Merchant Navy Workshop
Interested in what your seaman ancestor was eating, how much he earned, who he was sending money home to or where he lived? These and many other questions will be answered in this workshop. Attendees will discover what records are available and how and where to find them. The workshop will also look at the Seaman's Certificate of Continuous Discharge, Crew Lists, Ship's Logs, Lloyds Register of Shipping, Ship's Movement cards, and some online resources for finding more information. 
Ticket price includes tea/coffee and biscuits. Places limited, pre-booking required.
Image copyright: IWM (Q 18497).
Speakers
Tony Wright

Tony is a veteran family historian with a special interest in the history and records of the merchant navy. This interest was initially sparked by his uncle, himself a merchant seaman, and when tracing his career, Tony became increasingly interested in the types of records available and where they could be found.

Tony's expertise in computer software programmes and datasets has also led him to becoming the society's Database Manager. He has worked on the county-wide CDs Berkshire Baptisms, Berkshire Marriages, Berkshire Burials, Berkshire Probate, Berkshire War Memorials, and Berkshire and the War.