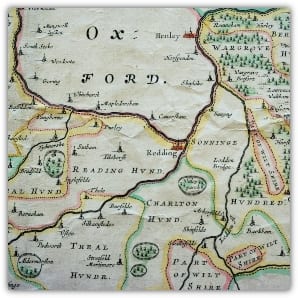 Living Through the English Civil War – Online Talk
The countryside in and around Reading was horribly affected by the Civil War. This talk tells the story of what happened to the ordinary folk when the soldiers arrived.
Discover how villages, particularly those along the Bath Road, were caught up in the skirmishes. Practically all were looted. Many individuals died because of the diseases the soldiers brought with them. Others attempted to stave off financial disaster. The cloth trade suffered disastrously.
Among the masses however, we can still identify the individual. The husband who hid his valuables. The Reading Pest House occupant who feared the worst. And the Woolhampton sheep farmer who attempted to stop the plundering. Discover their stories in this fascinating talk. 
Places are limited, and so pre-booking is required. Full joining instructions will be sent to all attendees in advance. Bookings close one day before the event.
This is the second of three talks in the Autumn Potpourri series. Book all three talks in one multi-ticket for the price of two.
To join this talk, you will need a computer device with speakers and a microphone. Ideally, also a webcam. You also need to be able to access the internet from it. First-time users of Zoom, will be asked to download a small piece of software. This will be sent to you in advance. Technical help will be given to those who need further assistance, please contact  
Image: Bercheria Vernacula by J. Blaeu, 1648 or 1664, © Berkshire Record Office and reproduced with their kind permission.
To book – scroll down.
The Non-members ticket sales has ended!
The Members ticket sales has ended!
Speaker
Catherine Sampson MSc

Catherine Sampson MSc

Catherine is a veteran family historian. Her own family history research is mainly concentrated in East Anglia and the North-East.

Catherine read Prehistory and Archaeology at the University of Sheffield in the 1980s, and more recently gained a distinction in a Masters in English Local History at Oxford University. She is a keen social historian, specialising in the Early Modern period and chairs Berkshire Family History Society and also Project Purley, Purley's local history society. She has published several histories of her own family and in 2010 edited "Purley in Old Images".