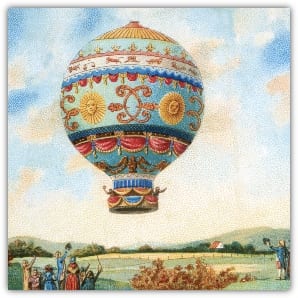 'King of all Balloons': James Sadler
Oxford pastry cook & England's first aeronaut
There are several Berkshire associations within the story of James Sadler (1753–1828), the unlikely first Englishman ever to build and fly a hot-air balloon. His wife came from Abingdon, for instance. And the first English woman to fly, as a result of Sadler's expertise, came plausibly from Bucklebury.
Subsequently an engineer, designer of armaments, and Chemist to the Navy, Sadler returned to ballooning after a gap of 24 years in 1810. He and his son Windham set numerous records while ascending from some 40 British towns and cities. Many being the first ever from those places. Yet despite a lifetime of achievement, which brought him into contact with some of the most significant names in Georgian Britain, Sadler ended his days in impoverished obscurity.
Pre-booking for this talk is required because places are limited. Full joining instructions will be emailed to attendees in advance. Bookings close one day before the event.
This is the second talk of five in the Winter Potpourri of Social History Talks Series. Book all five talks in one multi-ticket for the discounted price of four.
To join this talk, you will need a computer device with speakers. Ideally, also a webcam and microphone. You also need to be able to access the internet from it. First-time users of Zoom, will be asked to download a small piece of software, which will be sent in advance. Technical help is available, please contact  
To book – scroll down.
The Non-members ticket sales has ended!
The Members ticket sales has ended!
Speaker
Mark Davies

Mark Davies

Mark Davies is an Oxford local historian and guide, with a particular interest the history and literature of the non-University aspects of the city. He has lived on a narrowboat in Oxford since 1992, and is an authority on the social and cultural importance of the city's waterways. The early history of ballooning marks a change of element from water to air but maintains his preferred theme of topics associated with Oxford 'Town' rather than 'Gown'. Mark has written and published seven local interest books, including 'King of all Balloons', the biography of James Sadler and his balloonist son, Windham. He is currently advising the Museum of Oxford prior to its reopening in 2021.