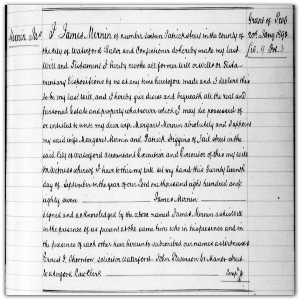 Irish wills and testamentary records
Although many wills were destroyed in 1922, there are still surviving records and this talk will examine where you may find the wills themselves or transcripts and abstracts that will help to build your family tree.   It will include records to be found in the different jurisdictions of Northern Ireland, Republic of Ireland as well within UK records.
This talk is free to members of Berkshire Family History Society and we request a donation of £5 from non-members. Pre-booking is required, because the meeting link will emailed in advance. Booking ends one day before event. 
To join in this branch meeting, you will need a computer device which has a microphone and speakers. Ideally, also a webcam. You also need to be able to access emails from this device. First time users will be asked to download a small piece of software to join the meeting.  The meeting link will be emailed to you in advance. Technical help is available for those who need further assistance, please contact  .
Speaker
Natalie Bodle

Northern Ireland based professional genealogist, house historian and educator

Natalie is a professional genealogist from County Antrim who undertakes research throughout Ireland and also provides genealogy evening courses for those who would like to learn how complete their own family history research. Irish genealogical research has the reputation of being difficult due to the number of records lost. With more than 20 years' research experience, a Post Graduate Certificate in Genealogical Studies, membership of the Association of Professional Genealogists and the Genealogical Speakers Guild, Natalie is well placed to help family historians find their way with Irish ancestral research.