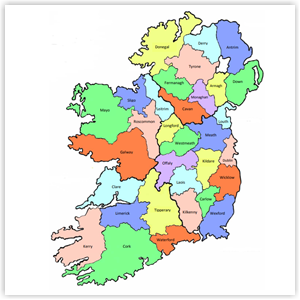 Irish Ancestry Research
Although many documents were destroyed, there is still a wealth of records existing to help you research your Irish ancestry.
Linda Hammond explores civil and church records available online as well as census returns and census substitute records to cover those periods where documents no longer exist. By looking at valuation records, burial and probate records, passenger lists and newspaper archives you can endeavour to trace your Irish roots and locate your ancestor's hometown.
Linda is a professional qualified genealogist with over 30 years' experience.
This talk is free to members of Berkshire Family History Society, and we request a donation of £5 from non-members. Pre-booking is required, because the meeting link will be emailed in advance. Booking ends one day before event.
To join in this branch meeting, you will need a computer device which has a microphone and speakers. Ideally, also a webcam. You also need to be able to access emails from this device. First time users will be asked to download a small piece of software to join the meeting. The meeting link will be emailed to you in advance. Technical help is available for those who need further assistance, please contact bo*****@be******.uk
Speaker
Linda Hammond

Genealogist and Speaker

Linda Hammond is a professional genealogist based in South West France. She has been involved in genealogical research for over 35 years as both a researcher and a lecturer. Linda holds a Master's degree in Genealogical, Palaeographic and Heraldic Studies from the University of Strathclyde. She has published articles on her research into Reformatory and Industrial Schools in England.