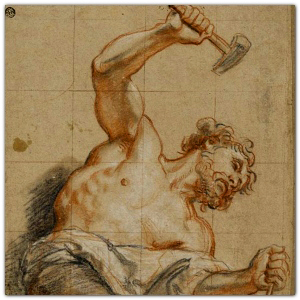 Industries Social History Talks Series
This all series ticket covers all three talks in the "Industries Social History" talks series, for the discounted price of £12.50 (members £10.00). You may also book each talk individually – see each separate event page. All three talks are on Thursdays at 2pm in The Centre for Heritage and Family History, Reading. They last about an hour with time for questions and discussion afterwards. 
After each talk, tea/coffee and cake will be available (included in the price). Pre-booking is preferred, but you can pay on the door, if there are spaces available.  
Thursday 14 July "Chalk, Caverns and Commandos"
 with Rob Wallace
Retired geophysicist Rob Wallace's talk will cover 100 million years of Reading's underground history. It will take us from the creation of chalk in the area, to the opening of Emmer Green chalk mines in the 18th century, essential to the local brick-making industry. Plus, the later uses of these underground chambers – including during World War II for storage of archives and as a base for some of Reading's resistance units. 
Thursday 11 August "The history of Reading's print industry"
 with Paul Joyce
Commencing in 1722, Reading became the second largest 'printing town' per head of population, in Great Britain. This is its fascinating and often overlooked story, in a richly illustrated talk. Paul's talks are always very popular so early booking is recommended.
Thursday 8 September "Suttons Seeds"
 with Richard Marks
Suttons Seeds were an iconic institution in Reading for decades. This talk will look at how it all began and what it was like to work for the company. It will examine how the company built its global reputation for reliable seeds and plants which were guaranteed across the world. The talk will also look at how Suttons developed over the years from humble beginnings in Reading to its move to Devon in the 1970s.
Please note that as these are face to face talks, prevailing Coronavirus precautions will be in place. Please see: https://berksfhs.org/face-to-face-events-covid-security/
Scroll down to book.
Speakers
Paul Joyce

Paul Joyce

Paul Joyce is Chairman of Reading Transport Society and has been an author and photographer for the railway historical magazine "Back Track" for over 30 years. Paul is also an avid collector of anecdotal history and vintage photography, especially of anything connected to the railways of Reading.

Richard Marks

Richard Marks

Richard Marks is a published historian based in Berkshire who specialises in military, industrial and railway history. His current areas of research are the aircraft and systems of the RAF, industrial development in the Victorian period, and the development of the railway and canal systems in Britain in the mid to late 19th Century. Richard is also currently researching a PhD in industrial history.

Rob Wallace

A retired geophysicist, Rob Wallace lives in Purley on Thames and has a deep fascination for land use, mapping and the historical environment.