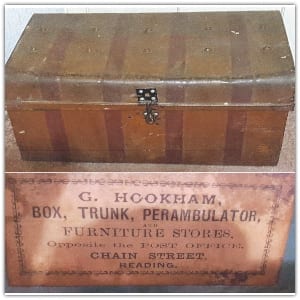 How to Lose an Afternoon to a Photograph (Reading BAM)
Have you ever come across a photograph and felt like delving deeper into the contents of it? An innocent picture sent to me requesting more information led to an afternoons internet surfing. Join this talk to find out what can be found in a few short hours using online only sources. 
This talk is free to members of Berkshire Family History Society and we request a donation of £3 from non-members. Pre-booking is required, because the meeting link will be emailed in advance. Booking ends two days before event. 
To join in this branch meeting, you will need a computer device which has a microphone and speakers. Ideally, also a webcam. You also need to be able to access emails from this device. First time users will be asked to download a small piece of software to join the meeting.  The meeting link will be emailed to you in advance. Technical help is available for those who need further assistance, please contact  .
Speaker
Vicki Chesterman

Vicki Chesterman

Vicki has a deep family history in Reading and surroundings and is very keen on the local and social history of the area. With roots going back to Tudor times in Reading, she's lucky enough to have a plethora of records documenting her family's existence.

Vicki is secretary of Berkshire Family History Society's Reading Branch as well as secretary of the History of Reading Society. She is also editor of the Berkshire Family Historian.