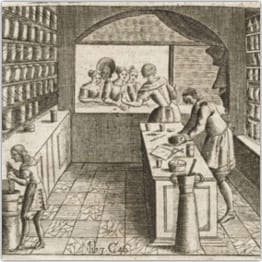 Healthcare in a Georgian Town
Join us for a fascinating insight into the lives of our ancestors as we consider healthcare in Georgian England. Historian Penny Stokes will look at medical practitioners, mortality and causes of death, and the remedies which the Georgians trusted for cures. Specific examples will be from Newbury.
The eighteenth century was a dicey time to become ill. The physicians and surgeons of Georgian times were technically regulated, however standards of training and practice were unenforceable. The majority of country practitioners were wholly uneducated and often plied surgery alongside other random trades such as ironmongery or shoemaking. Treatments varied enormously, quackery was common.  
Fortunately for us, later nineteenth and twentieth century medical advancements have ended or considerably reduced many of the killers our ancestors would have feared such as: smallpox, measles, TB, syphilis and cholera.
Pre-booking for this talk is required because places are limited. Full joining instructions will be emailed to attendees in advance. Bookings close one day before the event.
This is the first talk of five in the Winter Potpourri of Social History Talks Series. Book all five talks in one multi-ticket for the discounted price of four.
To join this talk, you will need a computer device with speakers. Ideally, also a webcam and microphone. You also need to be able to access the internet from it. First-time users of Zoom, will be asked to download a small piece of software, which will be sent in advance. Technical help is available, please contact  
To book – scroll down.
Sold out!
Speaker
Penny Stokes

Penny Stokes

Penny Stokes has been researching, writing and publishing the history of West Berkshire for 30 years. She was editor of the Berkshire Family Historian from 2006 to 2016. She has an MSc in English Local History from the University of Oxford.