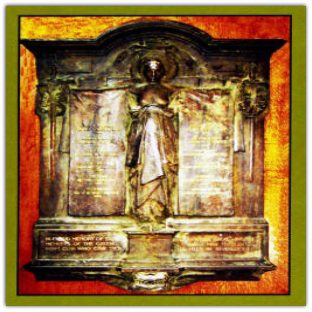 The Green Room Plaque
The Green Room Plaque was "found" and photographed when it came up for auction in a Sale Room in Rugby, Warwickshire, in 2009.  The Plaque commemorates twelve actor members of the Green Room Club who died in WWI.
Since that date, considerable research has been undertaken, using family history sources, military archives and contemporary newspapers in UK and USA, to find the stories of these actors, their backgrounds, careers and military service.  In the process some of their relatives have been traced and provided with copies of the information acquired.  Some research was also carried out by members the Great War Forum, who were sent a copy of another photograph of the plaque; their help with military history matters has been invaluable, and they have allowed their findings to supplement the findings of this project. 
The Green Room Club was a London club for actors.  Named for the Green Rooms at theatres where actors relax when not on stage.  The club was inaugurated on 21 July 1876. Since then it has moved several times: In 1903 it was at 46 Leicester Square, and that year Claude Monet painted Leicester Square from the Green Room balcony.  The Club remained there until 1940, when bomb damage made the club unusable and it moved to Whitcomb Street.  During that later period the members included Sir Ralph Richardson and Sir Laurence Olivier.
This talk is free to members of Berkshire Family History Society and we request a donation of £3 from non-members. Pre-booking is required, because the meeting link will emailed in advance. Booking ends one day before event. 
To join in this branch meeting, you will need a computer device which has a microphone and speakers. Ideally, also a webcam. You also need to be able to access emails from this device. First time users will be asked to download a small piece of software to join the meeting.  The meeting link will be emailed to you in advance. Technical help is available for those who need further assistance, please contact  .
Speaker
John P H Frearson

A Rugby-based historian, lecturer and author

John Frearson is a retired construction materials consultant, turned family, company and local historian, researcher, lecturer and author. He has been giving talks on local and family history topics for some ten years. He lives in Rugby, and has written a number of local and family history books.