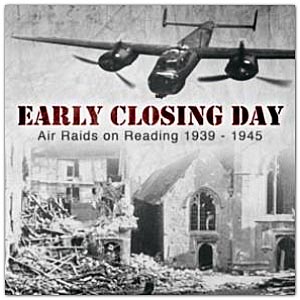 Early Closing Day – Air Raids on Reading in WW2
Forty-one people were killed by just four bombs during Reading's only fatal air raid on 10th February 1943. Most of the fatalities occurred in The People's Pantry, a popular restaurant at 175 Friar Street, staffed by the Women's Voluntary Service. It provided cheap and nutritious meals for an affordable price to supplement rations and was demolished. Had it not been early closing day in Reading the casualties would have most likely been even greater. We commemorate its 80th anniversary this year and remember its victims and their families. 
Before that the town had been bombed around ten times, and this is an account of how Reading prepared for air attack, and what can be told of the air raids themselves. 
This is the first of three talks in the World War Two Talks series. The other talks take place on 11th May and 8th June. You may book tickets for individual events or for all three talks in the series for a reduced price.  
After the talk, tea/coffee and cake will be available (included in the price). Pre-booking is preferred, but you can pay on the door, if there are spaces available.  
To book, scroll down.
Speaker
Mike Cooper

Mike Cooper

Mike has had a lifelong interest in history, especially military and local history. Following a history degree at the University of Reading he worked as a librarian, with both the University and Reading Library. In addition to work on librarianship, he has had three books on the history of Reading published. Mike works for Reading Borough Council, and lives in Tilehurst with his wife and Moggy the Cat.