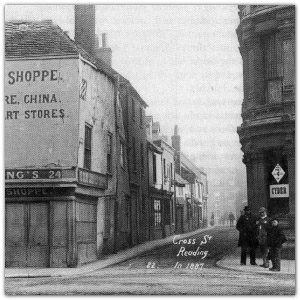 Crime and Punishment in Reading – Guided Walk
Join guide Terry Dixon as he takes us to the scene of ten crimes in Reading. Terry will talk about the crime and how it was committed. Some received national and even international attention. Terry will explain what evidence was found, and how and if they were solved. He will also talk about related punishments and other crime-related topics along the way. Terry will be paying particular attention to the controversial murder of tobacconist Alfred Oliver. This occurred in 1929, in his shop in Cross Street, in the town centre. 
This walk will be illustrated with photos and diagrams on the way.
The tour will take about two hours, and will comply with prevailing Covid requirements. It may, therefore, be subject to last minute changes or cancellation. If this occurs, we will attempt to provide an alternative date, and if this isn't convenient, we will offer a full refund to effected ticket holders.
Places are limited, so pre-booking is required. Attendees will be notified of the meeting point, by email, approximately a week before the walk.
To book, scroll down.
Sold out!
Speaker
Terry Dixon

Terry Dixon

Terry is Reading-born and completed a local apprenticeship as an electronics engineer, before branching into project management and specialising in defence-related initiatives, until his voluntary early retirement in 2016.

With a love of Reading and its history and considerable experience in leading a Reading-based organisation, he set up his own guided walk initiative – Terry's Reading Walkabouts, as a non-profit making entity. In the five years since launch, he has established thirteen different themed routes and has raised over £9,400, most of which has been donated to local charities.