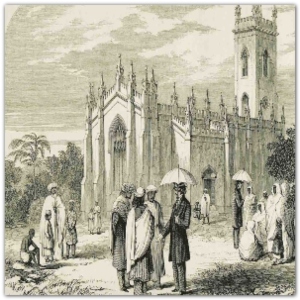 The Church Missionary Society (CMS) Archives: Searching for Information about your Ancestors
Founded in 1799,  the Church Missionary Society works with Christians around the world. By the end of this talk, you will be able to glean information from letter books, missionary journals, school records, correspondence and other original papers and learn more about your ancestor.
This talk is free to members of Berkshire Family History Society and we request a donation of £5 from non-members. Pre-booking is required, because the meeting link will emailed in advance. Booking ends one day before event. 
To join in this branch meeting, you will need a computer device which has a microphone and speakers. Ideally, also a webcam. You also need to be able to access emails from this device. First time users will be asked to download a small piece of software to join the meeting.  The meeting link will be emailed to you in advance. Technical help is available for those who need further assistance, please contact  .
Speaker
Yetunde Abiola

Yetunde Abiola

Yetunde Abiola has been researching her family history for 8 years. She travels extensively for family history research and is conversant with the interplay of histories and politics in today's multi-cultural world. She has also served as an Ambassador to RootsTech (London 2019, Salt Lake City 2020 and RootsTech Connect 2021) and has also contributed as a Speaker at RootsTech Connect (2021), The Genealogy Show London (2021-2022) and Legacy Webinars (2021). Her areas of expertise include the impact of ancestor stories on the lives of future generations and, the complexities and intricacies of Caribbean, Diasporan, and colonial genealogies.