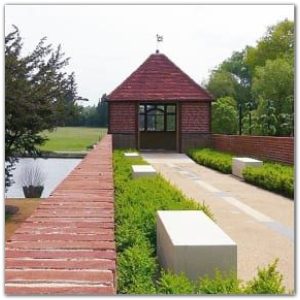 Caversham Court – Ghosts, Gardeners, Girl Power & Good Works
This illustrated talk gathers together some exciting new historical discoveries regarding Caversham Court, the house, its occupants, the gardens and the people who visited there.
The house is now demolished but the beautiful gardens are open to the public. In particular, the talk follows some of the remarkable women connected with the house. You will meet Lady Mosley, a black servant, female gardeners, women's literary circles and the founder of a Victorian crèche. You will also hear gossip about divorce, ghosts and nosy neighbours.
This talk is the first of three in the Summer Potpourri online talks series. Book all three talks in the series for £12.50 (members £10).   
Pre-booking is required, because the event link will be sent in advance.                             
To join this talk, you will need a computer device with speakers. Ideally, also a webcam and microphone. You also need to be able to access the internet from it. First-time users of Zoom, will be asked to download a small piece of software, which will be sent in advance. 
To book – scroll down.
Photograph copyright – Rose-and-Trev-Clough-cc-by-sa-2.0
Speaker
Hester Casey

Hester Casey

Hester has been a member of Berkshire Family History Society for many years and is also on the committee for Friends of Caversham Court Gardens. She has always been interested in social history and has recently started her own research into the people who were connected with the house and garden. This has taken her on an exciting journey and she is not sure where to stop!