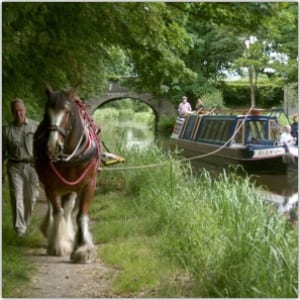 Canal People
Bracknell and Reading branches are holding this joint meeting.
In this talk, Martin describes the very many people who can be described as 'canal people' and includes canal builders from ancient China and Egypt, civil engineers of the Industrial Revolution and the navvies who built the canals. There are those who worked on the boats in peacetime and wartime, the people who founded the restoration movement and the very many groups involved in restoring canals in the 21st century. Canal theatre companies and some family histories are also mentioned.
This talk is free to members of Berkshire Family History Society and we request a donation of £3 from non-members. Pre-booking is required because the meeting link will be emailed in advance. Booking ends two days before the event. 
To join in this branch meeting, you will need a computer device which has a microphone and speakers. Ideally, also a webcam. You also need to be able to access emails from this device. First-time users will be asked to download a small piece of software to join the meeting.  The meeting link will be emailed to you in advance. Technical help is available for those who need further assistance, please contact .
The Members ticket sales has ended!
The Non-member ticket sales has ended!
Speaker
Martin Buckland

Martin Buckland

Martin Buckland has been interested in Industrial Archaeology from the age of 4 when watching Great Western trains with his Dad at Iver, where he was born.

Nearly seven decades later he is involved with the Great Western Society at Didcot Railway Centre and with the restoration of the Wilts & Berks and other canals.

He gives talks at Abingdon Museum to primary school children about what it was like to live on a working narrow boat and leads walks along the historic and proposed routes of the Wilts & Berks Canal and another covering the rivers of Abingdon.