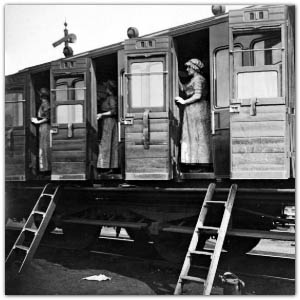 Britain's Railways in World War One
This quarter, we have not just one but two talks on aspects of the railways in World War One. This first talk will explore how conscription impacted Britain's railway companies and how the role of women on the railway changed during World War One. Discover how the railway companies contributed to essential war work. How they used their massive manufacturing capacity to support the army. Plus, how they contributed to the development of new technology used in the field. We will examine how government control impacted upon the railways during the war years and the legacy it left for post war Britain.
This is the first of three talks in the First World War Talks series. The other talks take place on 9th February and 9th March. You may book tickets for individual events or for all three talks in the series for a reduced price.  
After the talk, tea/coffee and cake will be available (included in the price). Pre-booking is preferred, but you can pay on the door, if there are spaces available.  
To book, scroll down.
Speaker
Richard Marks

Richard Marks

Richard Marks is a published historian based in Berkshire who specialises in military, industrial and railway history. His current areas of research are the aircraft and systems of the RAF, industrial development in the Victorian period, and the development of the railway and canal systems in Britain in the mid to late 19th Century. Richard is also currently researching a PhD in industrial history.