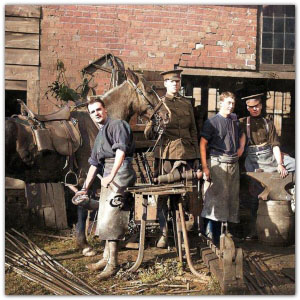 Berkshire Heritage Fair – morning
This online heritage fair is organised jointly between Berkshire History Society and Berkshire Local History Association. It takes places in two sessions between 10am and 12 noon and 2-4pm. You may book places on either or both sessions. This session covers the morning – see separate event listing for the afternoon. 
The event aims to give attendees the opportunity to connect with participating organisations from across the historic county of Berkshire. Additionally, family history societies from the contiguous counties will also be present. 
For detailed info on the participants, click here
This is the first time this type of event has been held in Berkshire. So it offers a unique opportunity to connect to local experts who can help you to deepen your understanding. Of the places your family lived, the organisations they were connected to and the businesses for whom they worked. Many have their own private archives of images, documents and memorabilia they are happy to share with you, others can point you in the best direction. Maybe you'll discover that never-before-seen photo of your great grandparents does actually exist!
It is free to attend and open to members and non-members alike.
Each participating organisation will have their own breakout room. Attendees will be able to move from room to room to pose questions, ask advice and share information with the experts present. These are private conversations and can only be heard by those present in the "room". 
Experts from Berkshire Family History Society will also be available. They will be able to answer your questions on topics such as Berkshire's parish registers, wills and probate, maps, getting started in family history and breaking down brick walls. 
 Zoom Talk Requirements
To join this online fair, you will need a computer device with speakers. Ideally, also a webcam and microphone. You also need to be able to access the internet from it. First-time users of Zoom, will need to download a small piece of software – included in the link. 
How to Book
Pre-booking is required because places are limited. Full joining instructions will be emailed to attendees in advance. Bookings close one day before the first event.
To book – scroll down.