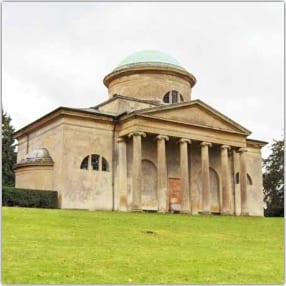 Berkshire and South Oxfordshire Churches – online
Discover some of the many historical, unusual and sometimes hidden churches, and churchyards, in and around Berkshire and south Oxfordshire, and, some of the people associated with them, in this online talk. 
Catherine will talk about the unusually discreet marriage of the widowed Anne Seymour, Countess of Warwick, to Sir Edward Unton at the tiny church of Hatford St George and the scandalous death of her former sister-in-law, Amy Robsart, at Cumnor. Find out where you can visit a private library within a church, see rare surviving examples of the macabre funerary art which swept Europe after the Black Death in the 1340s, explore a Georgian church set in Capability Brown- designed parkland, and find graffiti recalling the incarceration of Levellers in 1649. Lots of stories and social history and an introduction to some of our most historic small churches, all from the comfort and safety of your own home.
This is a members' only talk and is free. Pre-booking is required as full joining instructions will be sent by email to all attendees in advance. Bookings close one day before the event.
To be able to hear this talk, you will need a computer device which has a microphone, speakers and ideally also a webcam. You need to be able to access emails from this device.  You will be asked to download a small piece of software the first time you join to enable you to use the online conferencing software. This will be sent to you in advance. 
Bookings now closed.
Speaker
Catherine Sampson MSc

Catherine Sampson MSc

Catherine is a veteran family historian. Her own family history research is mainly concentrated in East Anglia and the North-East.

Catherine read Prehistory and Archaeology at the University of Sheffield in the 1980s, and more recently gained a distinction in a Masters in English Local History at Oxford University. She is a keen social historian, specialising in the Early Modern period and chairs Berkshire Family History Society and also Project Purley, Purley's local history society. She has published several histories of her own family and in 2010 edited "Purley in Old Images".