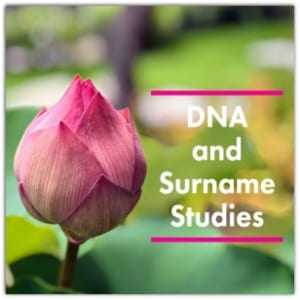 Autosomal DNA and One Name Studies
John Titterton started researching his family history as a young teenager.  His full name is John Edenzor (pronounced Enzor) Titterton and as a teenager he saw his own obituary in the Staffordshire Advertiser.  None of his relations had any idea of who this other JET was.  When he was 17 he visited the Staffordshire Record Office, which was opposite his school bus stop.  In two afternoons he took his family tree back to 1700, apart from knowing which of two brothers was the father of his ancestor William Titterton b. 1739.  To fully solve this puzzle took 13 years of research which effectively established a One Name Study, and wills played an important part in finding the solution.  (It was neither brother, but that's another talk.) He has had articles published in family history society magazines and The Genealogists Magazine.
He is a member of the Guild of One Name Studies.  As the registered researcher of the Titterton One Name Study he is researching all instances of the name Titterton and has established that the family had its origins about 1400 in the North Staffordshire village of Alstonefield.  In May 2002 he organised a 'Titterton Gathering' to which 100 Titterton family members came, including some from USA and Australia.  He has established about 30 different Titterton family trees but the connections between some of them are still to be discovered. 
There are three types of DNA testing; that going back in the female line (mitochondrial DNA); that going back in the male line (Y Chromosome DNA) and that going back in all lines (autosomal DNA).  One might expect that the Y chromosome DNA tests would be the best one to help a One Name study and bridge these gaps.  However it was after he had been contacted by a complete stranger whose autosomal DNA test had a number of Titterton hits that he was able to break down a few of these brick walls.  The talk discusses how it was possible to use the autosomal DNA evidence that four people were genetically/genealogically related though the Titterton family to make connections between several different Titterton branches.
This talk is free to members of Berkshire Family History Society and we request a donation of £3 from non-members. Pre-booking is required, because the meeting link will emailed in advance. Booking ends one day before event. 
To join in this branch meeting, you will need a computer device which has a microphone and speakers. Ideally, also a webcam. You also need to be able to access emails from this device. First time users will be asked to download a small piece of software to join the meeting.  The meeting link will be emailed to you in advance. Technical help is available for those who need further assistance, please contact  .
The Non-Members ticket sales has ended!
The Members ticket sales has ended!
Speaker
John Titterton

John Titterton

My full name is John Edenzor Titterton and I started researching my Titterton family history in the late 1960's after seeing my obituary in the local paper. This eventually lead to me doing a one name study on the Titterton surname which has a point origin around 1350 in North Staffordshire. Wills proved to be an important part of my research and broke down a proverbial 'brickwall'.