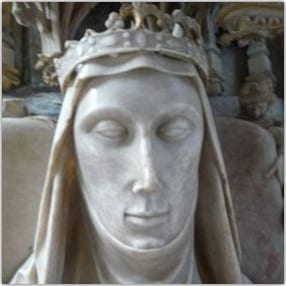 Alice through the Wardrobe
An enduring myth about Donnington Castle claims that it was once home to the poet of The Canterbury Tales, Geoffrey Chaucer. Not so, but it was once the home of his grand-daughter Alice Chaucer, a redoubtable woman who first married at the age of 11, and later became the Duchess of Suffolk and a Lady of the Most Noble Order of the Garter, an honour granted rarely to women. Widowed after her third marriage, she became (in the words of Wikipedia) "a rare and important example of an autonomous woman patronising art works depicting empowered historical female characters."
Places are limited, and pre-booking is required; joining instructions will be emailed in advance. Bookings close one day beforehand.
To enjoy this talk you will need a computer (or laptop/tablet) which has speakers and a microphone and, ideally, also a webcam. You also need to be able to access your emails from this device. First-time users will be asked to download a small piece of software, which will be sent in advance. For further technical help ask
Sold out!
Speaker
David Willetts

Local and church historian of Shaw-cum-Donnington

David Willetts graduated with a history degree from Bristol University, after which he became a chartered accountant and followed a business career around the world. He moved with his wife Chris to Shaw from Hertfordshire in 2007, and joined St Mary's Church, of which he is a trustee.
David enjoys exploring the history of Shaw cum Donnington, and has been closely involved with Heritage Open Days at St Mary's in 2017, 2018 and 2019, in which his aim has been to bring ancient buildings and monuments to life, by telling the stories of the people who lived here as they happened down the centuries.