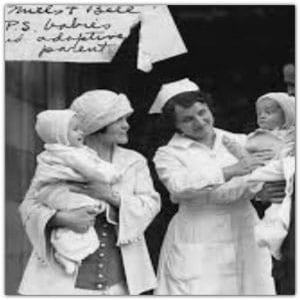 Adoption in England & Wales (Bracknell & Wokingham BAM)
The talk will initially consider the clues for and reasons leading to adoptions and their extent before examining the nature and location of available records and the organisations, including Children's Homes, that created them. We then explore the location of adoption files and current adoption agencies before explaining how to try to find birth parents and adopted children including the process of adoption certificate application. Examples will be shown and sources of further information highlighted.
The evening is free to members of Berkshire Family History Society and we request a donation of £3 from non-members.  Pre-booking is required because the meeting link will be e-mailed in advance. Booking ends one day before event. 
For those of you new to Zoom you will be asked to download a small piece of software when you first log on in order to join the meeting.  The download only takes 2 minutes.  You will need a computer device which has a microphone, speakers and ideally a webcam.  You will also need to be able to access e-mails from your device.  The meeting link will be e-mailed to you in advance. Technical help is available for those who need further assistance, please contact:
The Member ticket sales has ended!
The Non-member ticket sales has ended!
Speaker
Eric D Probert

Family Historian

Eric Probert was born in Birmingham but has resided in Chelmsford, Essex, UK for the last 55 years. He has had a lifelong interest In Folk Dancing and Aviation, both topics featuring within the pages of this website. He became interested in Family History in the 1980s on acquiring his paternal grandfather's Boer War medals and so this too is currently a predominant activity.