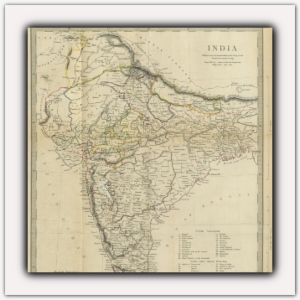 A light overview of the English in India from the early 1600s through to 1947
Lots of young British men went to India to make money.  As a result the East India company grew and took over the Indian subcontinent although there was probably never an intention to do so.
Join us for an evening learning about why the English were in India. 
Pre-booking is preferred but not essential.
Free parking.
We do request a £5 donation from visitors, members are free.
Image: India, 1849 – British Library, No restrictions, via Wikimedia Commons
Speaker
Jeremy James 'JJ' Heath-Caldwell

Jeremy James 'JJ' Heath-Caldwell

JJ is a Chartered Engineer by profession but has a deep interest in family history spanning over 40 years. He runs a website which records the history of his ancestors, with illustrations from his extensive collection of relevant paintings and books.