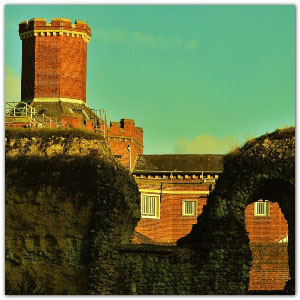 A Brief History of Reading Gaol
County Archivist Mark Stevens will explore the history of one of Reading's most iconic Victorian buildings – Reading Prison – from the Georgian period until its first closure in 1920. Find out about the separate system of 'hard labour, hard board and hard fare' that characterised the Victorian regime; before hearing about Oscar Wilde, some of the prison's executions and Reading's little-known role in the Easter Rising.
This talk is the first of three in the Autumn Potpourri online talks series. Book all three talks in the series for £12.50 (members £10).   
Pre-booking is required, because the event link will be sent in advance.                             
To join this talk, you will need a computer device with speakers. Ideally, also a webcam and microphone. You also need to be able to access the internet from it. First-time users of Zoom, will be asked to download a small piece of software, which will be sent in advance. 
To book – scroll down.
Image: "Reading Gaol" by spicygreenginger licensed under CC-NC 2.0
Speaker
Mark Stevens

County Archivist for Berkshire

Mark is Berkshire's county archivist.

He grew up in Maidenhead and has a lifelong love of history in the Royal County. He is particularly interested in historic mental health care and the people who received it and is the author of two related books: "Broadmoor Revealed" and "Life in the Victorian Asylum".

Mark was elected as vice-president of the Berkshire Family History Society in 2016.