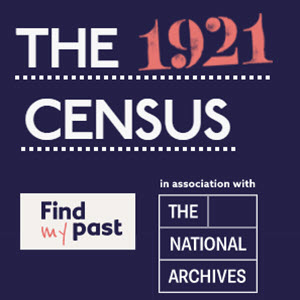 The new 1921 Census
The 1921 Census for England and Wales was launched on 6th January 2022.
The imaging and transcription of the 1921 Census schedules for England and Wales held by the National Archives has been performed by Findmypast who also tackled the 1911 Census and the 1939 National Register.
As you might remember when Findmypast launched the 1939 register, they love spreading the word about their new collection to family history and genealogy society members, giving them the best possible chance to broaden their research and break down those brick walls!
Our Findmypast speaker will explain and answer questions on the census background and how we can gain access to the 38 million lives who are recorded within. This will be the last census release for at least 30 years, as the 1931 census was destroyed by fire, and the 1941 census was cancelled because of the Second World War. 
This talk is free to members of Berkshire Family History Society and we request a donation of £3 from non-members. Pre-booking is required, because the meeting link will emailed in advance. Booking ends one day before event. 
To join in this branch meeting, you will need a computer device which has a microphone and speakers. Ideally, also a webcam. You also need to be able to access emails from this device. First time users will be asked to download a small piece of software to join the meeting.  The meeting link will be emailed to you in advance. Technical help is available for those who need further assistance, please contact  .
This talk is one of two identical talks which the society is hosting on the new 1921 Census, both given by census experts at Findmypast. The other talk was on Wednesday 19th January (Woodley (Computer) Branch Meeting)
The Non-members ticket sales has ended!
The Members ticket sales has ended!
Speaker
Jen Baldwin

Acquisition & Evangelism and Global Ambassador Program Lead for Findmypast

Jen Baldwin has been working in the realm of professional genealogy since 2010 but has been pursuing her family history since she was ten years old, enjoying her grandmother's stories – and her cookies. She is currently the North American Acquisition & Evangelism and Global Ambassador Program Lead for Findmypast. Jen lectures, writes, and consults on a variety of genealogy related topics, and was part of the research team for Genealogy Roadshow, season two on PBS. She is the author of course materials for the National Institute of Genealogical Studies. She is excited to discover unique resources that allow for a different perspective in genealogical research.