« Back to Index
Frilsham is a small village and parish near the Berkshire Downs, about six miles north-east of Newbury, and 12 miles from Reading. No railway, canal or main road passes through the parish.
Local place names
The only two farms named in the 1851 census were Frilsham Farm and Cocks Farm.
Size
978 acres (396 hectares)
Population
184 in 1851; 315 in 2011
Hundred
Faircross
Poor law union
Registration district
Bradfield
Present-day local authority
West Berkshire
Grid reference
SU 54 73
Adjoining parishes in the nineteenth century
Bucklebury, Stanford Dingley, Yattendon
Genealogical resources
Baptisms and burials registers 1768-1965 were stolen from church.
See Berks FHS Books for coverage of this parish in the society's range of CDs.
See also Berkshire Record Office holdings.
Links
Published local history
G Timmins Frilsham a village history (Lola Print, 2012)
Felicity A Palmer Frilsham and the Floyds 1800-1900 (illus booklet, author, nd)
J T Parfitt St Frideswide and the church of St Frideswide, Frilsham, Berks (author, 1929)
Anglican church and parochial organisation
The living is a rectory in the deanery of Newbury, archdeaconry of Berkshire, diocese of Oxford (Salisbury diocese before 1836).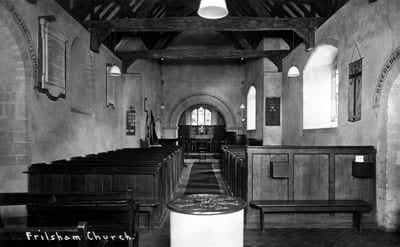 The church is dedicated to St Frideswide, a princess of the late seventh century. According to legend she fled from Oxford to Frilsham to escape the unwanted attentions of a suitor, and hid on the site of a ruined temple used as a pig-sty, which later became the site of the church.
The present-day nave of the church was the complete church of the twelfth century.
Other churches
A Parliamentary calendar of charitable trusts compiled in 1871 found in Frilsham a trust deed for the benefit of Protestant dissenters.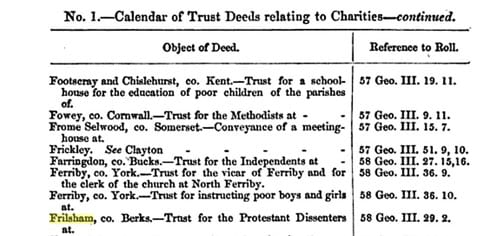 Schools
According to Samuel Lewis' Topographical Dictionary of England in 1831, Frilsham had a school endowed with the interest on £200. This appears to have been funded by a deed drawn up by Robert Hayward, lord of the manor, in 1824.

As shown in the extract above, Parliamentary papers of 1835 found Hayward's school and another founded at around the same time.
Pubs
The Pot Kiln is popular today, but no pub or beer house is mentioned in the 1851 census.
Other local history
Frilsham seems to have had few noteworthy residents, but Miss Elizabeth Gregory was given an obituary in the Athenaeum magazine in 1807: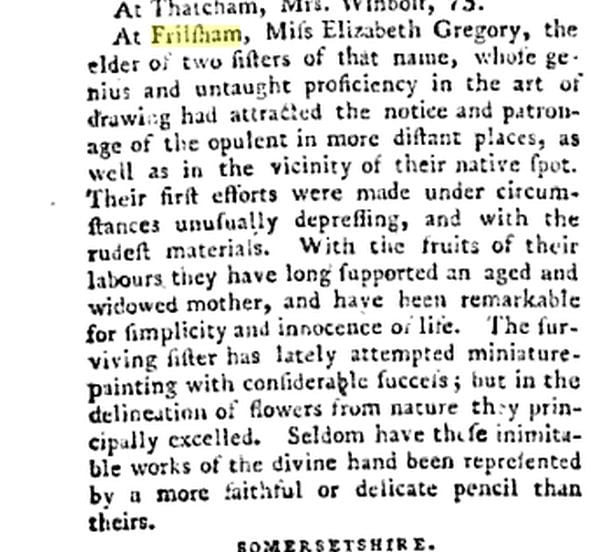 « Back to Index