The most eagerly awaited event in a decade is here and this one is HUGE because the 1931 census was destroyed in a fire and the 1941 was cancelled because of the war
So this is it for THIRTY YEARS!
Not sure what's involved?
Want to know what's different about the 1921 Census?
View the recording of the talk we hosted on 25th Jan 2022 with guest speaker, Jen Baldwin, from none other than Findmypast!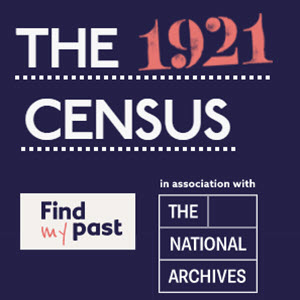 Windsor Branch Webinar
25 Jan
Speaker: Jen Baldwin from Findmypast
Accessing the 1921 Census at the Centre
You can access the 1921 Census at the Centre using our computers but you will need to register for your own (free) private Findmypast account and then buy the necessary credits to view the census records. findmypast.co.uk/register
When you create your account, you will be sent a verification email to activate your account, so you will need to be able to access your email when you join.  You could check your webmail account on our computers, bring your own device with you, or you might want to set up the account before your visit.  
If you want to view 1921 Census records on your free account while also having access to the regular FMP records through our account, we suggest you bring your own device with you as it will be easier for you to have each account open  on a different device so you can compare one screen with the other.  If you can't, we'll set up our computer so you can swap browsers but it'll be less convenient to use.